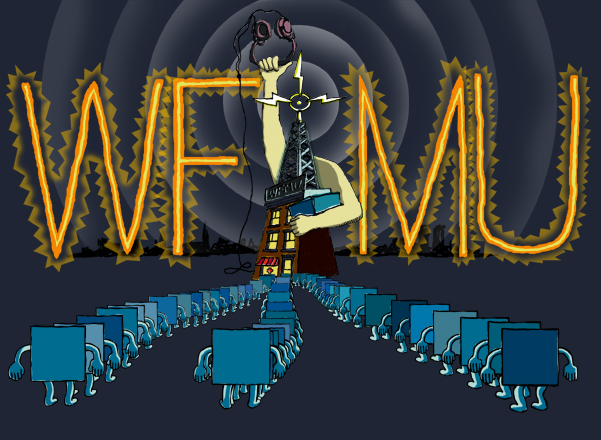 this is it. THIS IS IT!
this is the last day of
WFMU
s two week
marathon
. as of right now-ish they're a little over 100,000 under their goal. i cannot stress how incredibly awesome and utterly slept on this radio station is and how amazing and unique their model of communicating craziness is. if you're the sort of person who likes ME, or ZITA, or this blog or anything related to it, i can honestly guarantee that there's something over at WFMU that you'll become so completely enamored with that you'll poop.
head over there and
PLEDGE
, people! if you do and later regret it, i just might give you your money back outta my own pocket.
$15
gets you a sticker (and extra good vibes)
$50
gets you a t-shirt (i suggest the "consistently inconsistent" design by
espo
)
$75
gets you a shirt, the sticker and one of the
lovingly hand crafted dj premiums
, of which i am sure there is at least one that will have you pitching a tent in your pants over.
i personally recommend
The Best Show On WFMU with Tom Scharpling
Presents The 2010 Chump Steamroller Fun Pack which is the first-ever Best Show DVD, loaded with tons of surprises and star-studded greatness (PATTON OSWALT! TED LEO! PAUL F. TOMPKINS! ZACH GALIFIANAKIS! TIM AND ERIC! JOHN HODGMAN! YO LA TENGO! TODD BARRY! MUCH MORE!) and a set of Best Show TRADING CARDS!
$180
($15/mo! cheep!) equals three dj premiums and the shirt and the sticker.
if you need any help deciding on which two premiums to add, i suggest
Trent
's Instant iTunes Party Pak (Four gigabytes of the best music in the world on a DVD + limited edition OFFICIAL Sound and Safe blue glowstick. Makes panties drop from Venice Beach to Venus!) and
Mr. Fine Wine
's Cats Got These Cats' Tongues - 25 Mostly Wordless Obscurities from Mr. Fine Wine's Vaults (You know those mind-blowing R&B, soul, and funk instrumentals Mr. Fine Wine is always talking over? Here they are without the talking-over).
$365
(payable $30/mo) gets you any 7 DJ premiums, both shirts, an item from
the prize warehouse
, and the vice-pack seen above that includes a shot glass designed by half-japanese's
jad fair
, some temporary tattoos (by
dimitri simakis
), and a set of loaded dice, cause WFMU always comes up on top (SNAKE EYES!).
there's a thousand dollar pledge level (puts you in the running for a trip with the station to go to the primavera sound festival in SPAIN) and a three thousand dollar level, but i'm not expecting anyone in eye-shot of this blog to be flush enough to handle cash like that.
and with that, i'm out. this has been a crazy two-week marathon and i'm glad we can hopefully go back to regularly scheduled programming for a full year after tonight.